stop bad attachments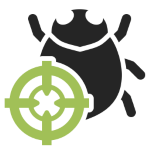 The "stop bad attachments" option blocks all potentially harmful attachments
except some safe extensions that you can define, like: pdf, txt, gif, jpg and png.
The sending with an unauthorized attachments is stopped.
The message does not pass through the smtp server,
the email gets bounced back to the sender with this warning:
The attachment named "example.zip" 
violates Your Company's email security policy. 

The delivery been been blocked. 
For more information, contact your IT Administrator.

Request a free trial